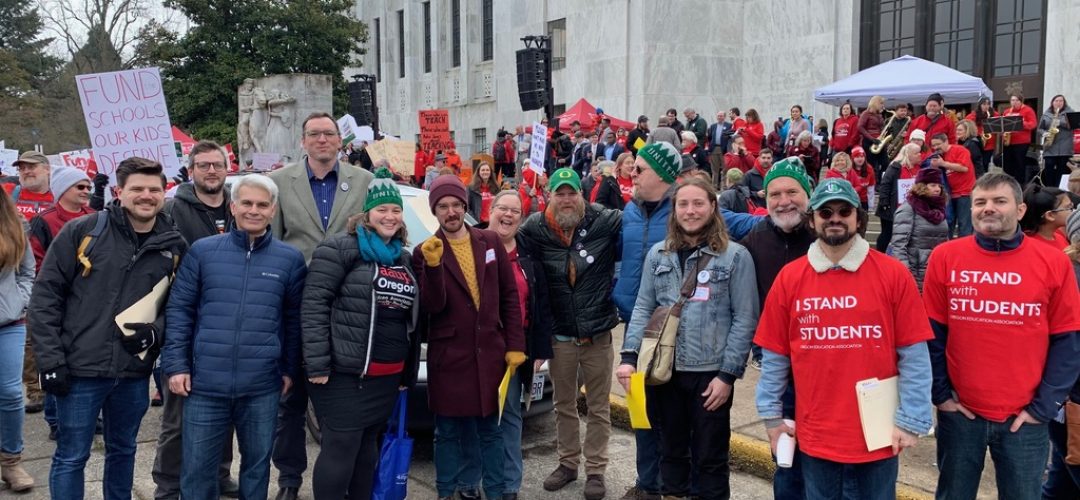 As a member of AAUP-Oregon, I share pride in all we accomplished legislatively this session. Together, members from across the state pursued an ambitious agenda in the 2019 Legislative Session–one that would strengthen our voices, support our students, and improve our universities and communities. The session ended on Sunday, June 30 after a tumultuous few months that witnessed major victories, real setbacks, and two walkouts by Senate Republicans. Our successes were the result of coalitional work that engaged thousands of educators, students, public workers, and community members across the state. If you want to get more involved in setting and securing our legislative agenda in future sessions, contact AAUP-Oregon Vice President for Political Action, Ramin Farahmandpur.
Below is a recap of major legislative victories and those fights we'll continue next session.
Victories
Paid Family and Medical Leave (HB 2005): AAUP-Oregon helped pass the nation's most inclusive paid family and medical leave law. Employer and employee payroll deductions will fund an insurance pool used to replace partial or full wages (depending on the employee's wage compared to the median Oregon wage) for up to twelve weeks of paid family and medical leave. Deductions to fund the pool will begin in 2022, and benefits will be payable beginning in 2023.
Public Worker Protection Act (HB 2016): We joined public employee unions across the state to pass the Public Worker Protection Act which codifies best practices in labor management, including dedicated time for unions to access new employees, improved communications channels, and release time to accomplish union work.
Student Success Act (HB 3427): This was a major success for advocates of public education in Oregon. AAUP-Oregon worked as part of a coalition of educators, students, and community groups to pass significant revenue reform to generate a $1 billion annual investment in K-12 education. We know that a strong K-12 education system benefits our state and prepares our students for the education they'll receive in our classrooms. A secure revenue stream for K-12 also eases overall budget tensions and may allow for greater investment in higher education. It will likely face a ballot challenge by a coalition of conservative business and ideological groups in the coming year, so stay tuned.
Public University Support Fund (HB 5024): Advocacy from the Higher Education Coalition, of which we are a member, resulted in an increase from previous funding-levels by $100 million for the next biennium. While this funding level fell short of the level required to fully support our universities while preventing tuition hikes, we are confident that our advocacy will continue to increase public support of Oregon's universities.
Restoration of Coordinated Coverage for OEBB & PEBB (HB 2266): Following the 2017 elimination of double coverage for public employees, we stood with other public employee unions to restore this important benefit. HB 2266 ensures that families who need coordinated coverage to manage expensive chronic or acute illnesses can fully utilize their insurance.
Tuition Equity for Graduate Students (SB 859): As part of the Higher Education Coalition, we lobbied to extend tuition equity for undocumented students to include graduate tuition.
Continuing Fights
Part-Time Faculty Health Care (SB 852): Alongside our American Federation of Teachers and Oregon Education Association allies, we continued the push to provide employer-paid health insurance for faculty who, when they pool their hours across public institutions, work more than half-time. Despite our focused efforts on this bill, we were not able to secure passage during a session where higher education investment was very restricted. Powerful testimony from members made significant headway in demonstrating this very real need, and we'll be back in future sessions to keep fighting.
HECC Voting Rights for Faculty, Staff, & Student Commissioners (HB 3280): Although enfranchisement of faculty, staff, and student commissioners was supported by a majority of the current HECC commissioners and several past commissioners, we were not able to pass HB 3280. Reservations expressed by HECC Chair Neil Bryant stifled support of the bill, and although we were able to get the bill through the House and have a good hearing in the Senate Education Committee, it did not make it to the Senate floor. We will continue to fight for voting rights on the HECC and are hopeful that future sessions will allow us to move this important work forward.
PERS Cuts (SB 1049): Corporate lobbying groups proposed several pieces of legislation that would significantly reduce PERS benefits. While these did not pass, House and Senate leadership and Governor Brown introduced a plan that incorporated some features of these pieces of legislation, including cuts to the Individual Account Program (IAP). AAUP-Oregon members and others from across the state sent tens of thousands of emails to protect our retirements. This effort helped mitigate the cuts, which were reduced to 1.5-3% retirement cuts (depending on tier and time to retirement). Other features of the bill, such as the longer amortization schedule are helpful. We know that past PERS cuts have been struck down by courts, and public employee unions plan to pursue challenges to the new law.
Clean Energy Jobs Bill (HB 2020): Despite having initial supermajority support, the Senate failed to pass the Clean Energy Jobs Bill when Republican Senators fled the capitol for a second time near the end of session. We expect work to continue on this bill and are hopeful that important climate legislation will no longer be sacrificed to appease a small minority of legislators.
Onward!
Michael Dreiling
AAUP-Oregon President