President's Column by José Padin
What's Going On by Margaret Butler
Chapter Updates:
United Academics at University of Oregon
Portland State University-AAUP

Oregon State University
Academic Freedom and Civic Duty
by José Padin, President, AAUP-OR
Ought faculty and academic professionals feel a strong sense of civic responsibility on account of the nature of our work? What is the basis for such a sense of duty?
Academic freedom. I regularly feel the need to unpack this value in order gain a grasp on its demands, and as I do, it starts to reveal the distinct source of our civic responsibility. Without making any great claims for my thinking, I would like to share it briefly, if for no other reason, because it allows us to examine the premises of our work as a statewide association for the academic class.
Academic freedom is constituted by protections for inquiry and speech in colleges and universities against abuses of concentrated power — power concentrated inside universities, and outside. Now and again, free inquiry inevitably clashes with a vested interest more powerful than the individual university professor or academic professional. For the chilling effect to spread; for academic work to become corrupted and lose its independence, it only takes a salient case of career prospects and family livelihood lost. AAUP was founded a century ago to build a bulwark against this danger. Unfortunately, to this day the need continues for our national association to investigate and censure universities for egregious violations of academic freedom. Fortunately, we have and support a national association to do this work.
I believe — which in our academic world means, I've though about and reach the conclusion — that academic freedom has a connection to the public interest that is unique, and different from privileges extended to other professions. Academic freedom is not simply a privilege that society, or the state, extends in return for some public service by the academic class. Academic freedom is a requirement for society itself, free and civilized. Hell it would be, and hell it is, to live in a country, in a society, where un-checked power subordinates advanced pursuit of knowledge. Humanity has descended into that hell too many times to count in the last century alone. If university professors and academic professionals have one overriding ethical responsibility that cuts across the wide variety of our work, it would be the defense of academic freedom. We are also in the best position to act as a front line of defense, as we are the first to feel its breach in our daily work. But I have also reached the conclusion that the responsibility that comes with academic freedom extends further.
How do we monitor threats to academic freedom? How do we protect it? How do we remain motivated to do so? How do we resist urges and invitations to look the other way? What kind of investments, financial (local, state, national association dues, etc.), organizational, and especially, volunteer time, are minimally required from us?
As these questions make clear, our obligation in relation to academic freedom is a big project for many reasons. But it seems to me that to remain healthy and firm, our associations must also be a voice for, and act in the public interest — for justice — in all its facets. I just don't think it possible to be a responsible steward for one part of the public interest — academic freedom — while ignoring others. Doing so seems to invite a narrowing of our ethical view and unfortunate, if unwitting, complicities with betrayals of justice elsewhere.
Once we recognize this broader duty that extends from our stewardship of academic freedom, the list of demands on our ethical commitments gets long. But it is not difficult to appreciate some issues demanding our urgent attention today. Three stand out in my mind at the time of this writing, but there are many others that can make an important claim on our time and attention. First, the dwindling number of students who enjoy the freedom to pursue a university education — to pursue it free from extraordinary work, financial, and emotional burdens (the concentration of stress on campuses and classrooms is palpable, and might in part explain painful events we are witnessing with more frequency). Second, the growing economic and political inequalities tearing at our social fabric (at the university as well). Third, persistent discrimination, in all its forms, and the cultural and institutional habits that enable it, and which have the result of making some lives matter more than others (with tragic consequences, highlighted in our day by the #blacklivesmatter citizens movement).
I think it would be our shame were we blind to the broader responsibility that derives from our role as the stewards for academic freedom. Academic freedom and its worth would be much diminished. We can rightfully feel some pride that AAUP-Oregon, and our other affiliations — our national AAUP, and our campus chapters at OSU, PSU, UO, Willamette, Linfield, and across the country — with greater frequency, and more visibly, are speaking and acting on matters of justice outside the academy, and beyond a narrow conception of the ivory tower. It is also fair to say that we ought and need to aim higher still.
What's Going On!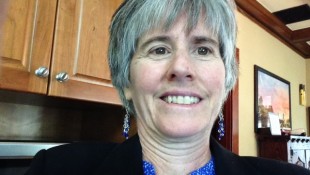 by Margaret Butler, Executive Director
This Saturday AAUP-Oregon is happy to host a gathering of activists from our two collective bargaining chapters to discuss strengthening our union chapters in the face of the anti-union attacks coming at us, whether via the ballot measure or the Supreme Court. We are honored to welcome our allies at SEIU, AFT, AFSCME and OEA who will share their experiences with us. Building our internal strength is key to creating a state conference with the strength to win real gains for higher education legislatively or through collective bargaining or advocacy work.
Other state conference priorities include deepening our understanding of best practices in working with Boards of Trustees, developing our members' budget analysis skills for understanding where university budget money really is spent, and developing a state wide Committee A which can advocate for AAUP principles with university administrations around the state. At our Executive Committee meeting, also on Saturday, we will be discussing forming a racial justice committee and taking the next step in our legislative program: hiring a lobbying firm. Work on all these initiatives has begun. To get involved, email Margaret@aaup-oregon.org
A Unive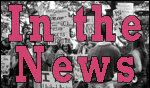 rsity Debates How To Carry Out a Divisive Guns-on-Campus Law
No Child Left Behind Goes to College
Chapter Updates
Portland State University-AAUP
by Pam Miller, President, PSU-AAUP
Hello everyone!
How can it be the 4th week of fall term already? I know for our friends on semesters that the time is going by quickly as well.
PSU-AAUP's Executive Council held its annual fall retreat at the Kennedy School on September 21. We had a packed agenda. We've been working on some additions to our Association Policies and we have asked our membership to approve a few minor constitutional changes. It's been many, many years since our Constitution has been changed and updated.
Just some highlights of what we are doing:
1) we will have a membership drive this fall with terrific prizes;
2) on October 21, we will have our annual membership meeting;
3) our Imagine Campaign is alive and strong and we've got swag now for bicycles;
4) we are searching for an organizer to bring fair share fee payers into membership;
5) we have a student intern, Lu Whipps, working with us to plan a student event for fall term
Our last speaker of our three-part series came on October 8. Alisa Messer filled us in on the story on the fight to save City College of San Francisco. The narrative was very scary and the bottom line is that accreditation is becoming more and more political and corporate. We thoroughly enjoyed Alisa's time with us.
Bargaining moves along slowly and we are just about ready to approve contract language for continuous appointments. This is really ground breaking in my opinion. It was difficult to negotiate how to transition current Non-Tenure Track Faculty (NTTF) into continuous appointments but after hours of discussion, we have a process that is fair and workable. For new NTTF hires, PSU's Faculty Senate will work on the logistics of continuous appointments after six years on the job. We're now working on summer school and looking forward to discussion and debate on professional development, steps for Academic Professionals, continuous employment for research NTTF, contract length, and the ever popular….money!
That sums it up for PSU-AAUP. I want to take a quick moment to thank all of our member leaders, particularly Leanne Serbulo, our VP of Collective Bargaining. Thanks to all of the Office Staff, Bargaining Team, and Executive Council. We are PSU!
Looking forward to seeing everyone on October 24!
United Academics at University of Oregon

by Deborah Olson, Vice President for Communications and Public Relations
It's official! The University of Oregon has a new labor contract that became official when United Academics President, Michael Dreiling and UO President, Michael Schill signed the document, tentatively agreed on in August. UA had a general membership meeting on October 6 at which members heard about the terms of the contract and had an opportunity to ask questions of the bargaining team and director, Dave Cecil. Organizers were excited when over 100 turned out for the meeting as it occurred so early in fall term. Voting on the contract began the night of the meeting and continued through the rest of the week. 97% of those voting approved the contract. This 2nd contract is a three-year contract so we now have some breathing room to work on implementation as well as unresolved issues. Details of our contract can be found at: http://uauoregon.org/new-cba-summary/ . At the meeting Dreiling and others also talked about the threat to public unions in the form of the Friedrichs v. Calif Teachers case before the Supreme Court and the necessity of organizing and building a strong membership now. A number of activists will be attending the AAUP-Oregon Summit "Protect Our Rights," described elsewhere in this newsletter.
Prior to the start of fall term, UA held a welcoming party for new faculty at 16 Tons Café. On a lovely late summer night in September new faculty, stewards and UA organizers enjoyed getting to know each other over beers and snacks outdoors at the Woodfield Station Shopping Center.
United Academics is excited to be co-sponsoring a First Year Faculty Development program for tenure-track faculty. The program will focus on 3 components in monthly meetings and workshops: Research Support and Productivity, Mentoring and Community Formation, and Resiliency and Well-Being in the Academy. UA will be taking the lead on this. More information can be found at: http://uauoregon.org/first-year-faculty-development-program/ . After this program is established, UA hopes to develop a similar program for non-tenure track instructional and research faculty.
Oregon State University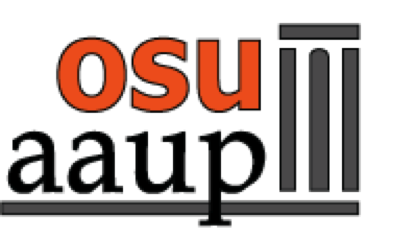 by Tony Vogt, AAUP-Oregon Advocacy chapter representative and OSU-AAUP leader
The advocacy chapter at OSU has resumed bi-weekly meetings. We are discussing effective follow up to recommendations that accompanied the survey of contingent faculty to which several of members contributed greatly (designing the survey, and compiling and interpreting the responses). There was what we consider a limited response to the survey's findings by the administration, and we intend to follow up on promises made, and to press the issues that the survey uncovered and made visible. We also maintain strong support for and presence in the Alliance for a Socially Just University (students, staff, and faculty are involved), a coalition for which our chapter was the catalyst. Finally, we are hoping to bring Howard Bunsis to our campus in February for a public talk (and analysis of the OSU budget) and possibly a workshop (so more of us can learn to do what Howard does).
Marylhurst students and alumni organize

by Margaret Butler, Executive Director
Students and alumni at Marylhurst University are organizing to Save Our Marylhurst. Faculty and students were stunned to learn of massive curriculum and faculty workload changes announced near the end of spring semester. Marylhurst has no tenure and includes full time faculty, many of whom served as department chairs, and many adjuncts who teach regularly. Faculty and students alike were surprised when Marylhurst president Melody Rose announced that adjuncts' schedules would be cut and full-time faculty would carry larger teaching loads, with no extra compensation.
Reorganization meant that departments were combined and many courses in the liberal arts were cut. Many faculty have resigned or been reorganized out of their positions. Faculty members have been talking about what to do, but students and alumni
have begun to organize.
On Tuesday October 13, the accreditation team visited Marylhurst for a meeting with students. Students and alumni marched across campus with a bagpiper leading the way. They ended the march at the venue for the accreditation team's meeting, where students went inside and raised their concerns about the curriculum cuts and faculty reorganization.
This is just the beginning. Students are demanding to know how many classes have been cut and how many faculty members are gone.