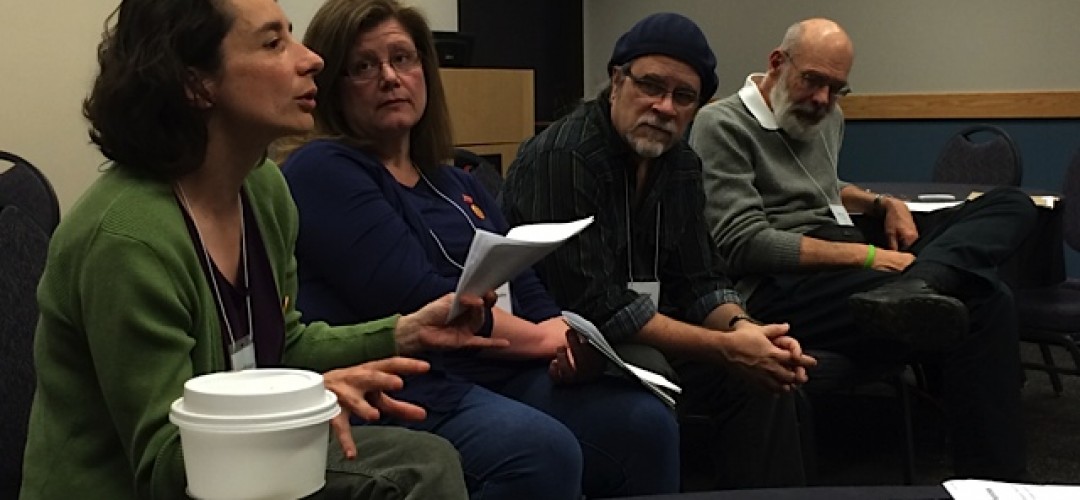 AAUP- Oregon State Conference April 26, 2014
"Our first state conference was a great success!  It was inspiring to hear about the recent victories at PSU and the U of O and to meet with our colleagues from across Oregon," said Kathleen Stanley, AAUP leader from Oregon State.
Over 60 faculty members and allies from around the state of Oregon gathered on Saturday April 26th at Oregon State's LaSells Stewart Conference Center in Corvallis. The conference drew large contingents from OSU, PSU, and University of Oregon as well as representation from Linfield College, Western Oregon University, Eastern Oregon, Southern Oregon and Oregon Institute of Technology.  Allies present included David Rives, President of AFT-Oregon, and Brett Nair and Laurie Wimmer, staff at Oregon Education Association.
After lunch, attendees chose among three workshops:  Organizing Around University Budget Issues, Organizing Around Student Debt, and Organizing Faculty with Contingent Contracts.
The final plenary allowed the conference to lift up action items to the whole body.  Suggested actions included the coordinated campaign around budget issues, one on one organizing on all campuses, developing a shared legislative agenda, developing a shared strategy and talking points for working with the new boards, getting good data on tuition charged for classes taught by adjuncts, and involving faculty in speaking out about student debt issues.  Conference participants left excited and inspired.