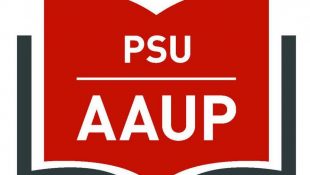 by José Padín, President, PSU-AAUP
Another academic year has begun, and our union is again ready to play a vital role representing faculty and academic professionals!
Our member-leaders —all volunteers— will be representing us on many consequential fronts: selection of new university leadership, non-tenure track faculty rights, pay equity initiatives, and work towards developing career steps for academic professionals. A partial list of our important work this year includes:
Participating in the search for a new PSU President
Crafting a new evaluation system for non-tenure track (NTT) faculty, as part of the implementation of the right to continuous appointments for NTT faculty gained in our new contract: this victory institutionalizes a fair system of peer review.
External pay equity. With an external consultant, we will participate in developing a new group of comparator universities, and a methodology to guide movement towards equity with other universities for historically underpaid PSU faculty and academic professionals.
Internal pay equity. We are also working on developing a methodology to identify and remedy internal pay inequities at PSU.
We are part of a work group, and a study, that we hope moves us closer to something like step system for academic professionals; a system for academic professionals that rewards long-term retention of talent with prospects for a internal career ladder at PSU.
Finally, and not least, we are also active with our colleagues at other Oregon universities on statewide action through our statewide organization, AAUP-Oregon.
Among many exciting statewide efforts, our legislative and political action committee is active inside AAUP-Oregon representing faculty interests in quality, affordable, higher education at the state legislature, the governor's office, and with the Higher Education Coordinating Commission.