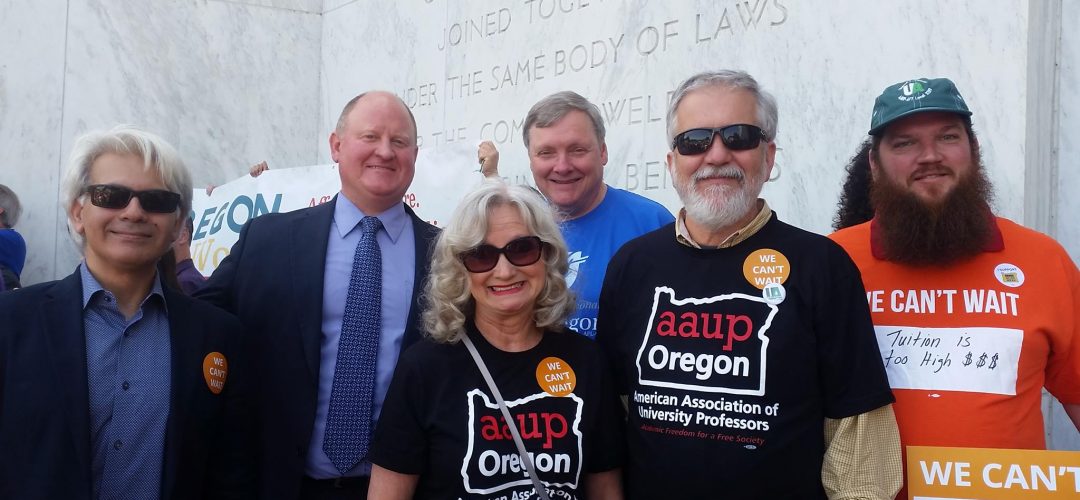 The Oregon Legislature's "short" session wrapped up on Saturday, March 3. The 27-day session included a few important victories for higher education and the defeat of some bills that would have negatively impacted faculty and other workers. Find a full summary of the positions AAUP-Oregon took in this legislative session along with the outcomes of those bills here. Highlights of the session are discussed below.
Defeating Attacks on PERS
The short session saw the introduction of several bills aiming to alter or eliminate PERS benefits for public employees. Each of the PERS-related bills on which AAUP-Oregon took an oppose position (HB 4070, HB 4131, and SB 1561) failed. Governor Brown's proposal to generate funds to partially pay down the unfunded actuarial liability (UAL), SB 1566, did pass. AAUP-Oregon remained neutral on SB 1566 as it offered a way to reduce the UAL without negatively impacting benefits earned by public employees.
Tuition Equity for Undocumented Students
AAUP-Oregon joined other members of the Higher Education Coalition in supporting SB 1563 to secure tuition equity for undocumented students. The successful passage of this legislation removes the requirement that students who are not citizens or lawful permanent residents apply for an official federal identification document to be eligible for in-state tuition. Given the federal landscape surrounding immigration, this is a necessary protection to ensure that all Oregonians have access to in-state tuition without exposing themselves to risk of retaliation or deportation.
Amplifying Faculty and Student Voices in the Tuition Setting Process
AAUP-Oregon joined the successful Oregon Student Association-led effort to pass legislation expanding the voice of faculty, students, and especially students from historically underserved populations in the tuition setting process. HB 4141 requires that each public university establish an advisory body to advise the university president on recommendations to the university governing board regarding resident tuition and mandatory enrollment fees. The legislation also requires increased documentation of the impact tuition increases may have on underserved student populations when Higher Education Coordination Commission (HECC) approval is required for tuition increases in excess of five percent.
For a full list of bills on which AAUP-Oregon took a position, read through our legislative summary.