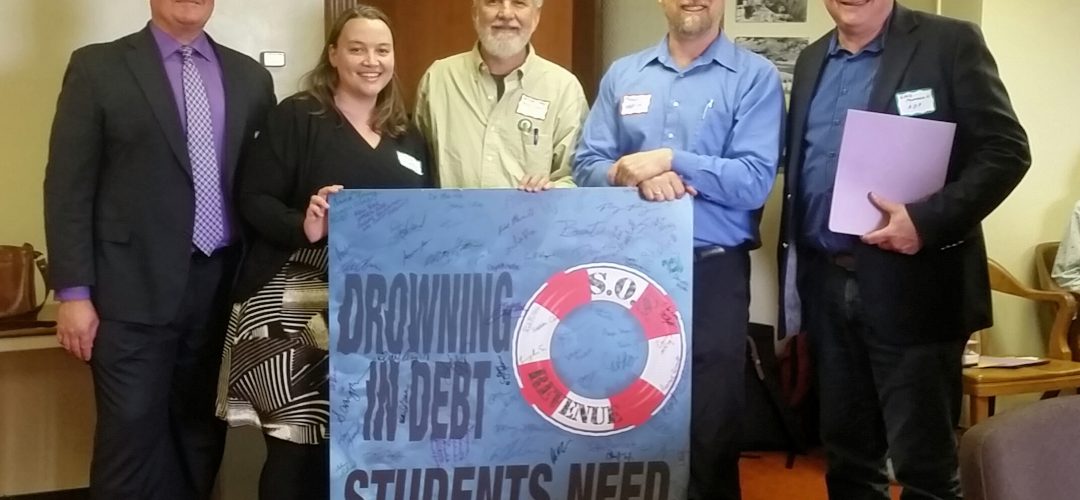 by Ashley Bromley, Executive Director
The last month has been a busy one in Salem! We've seen movement on several of our priority bills and new proposals on cost containment, all while the conversation around revenue takes on an added urgency.
Here's a rundown of the status of key bills we are tracking:
Cultural Competency Training (HB 2864): HB 2864 would require Oregon's community colleges and public universities to establish a process for recommending, and providing oversight for the implementation of, cultural competency standards for campus constituents. This bill was spearheaded by the Oregon Student Association (OSA), with whom we worked to ensure that faculty academic freedom and shared governance rights were protected in the language of the bill. Through our work with OSA, references to mandatory cultural competency training were removed and replaced with language that respects the autonomy and governance needs of local institutions. The bill takes steps to improve the conditions for academic freedom working toward more inclusive and equitable learning, teaching, and research environments. We fully support the passage of the HB 2864 and regard it as an important step in improving the inclusivity of our higher education institutions.  Erna Gelles provided great testimony in support of the bill, which has since passed both the House and Senate. HB 2864 is on its way to the Governor's desk for her signature!
Post Doc Retirement Benefits (SB 214):We worked alongside the Universities to revise SB 214, a bill that would take post-doctoral scholars out of PERS. Most post-docs never vest in PERS, and the employer contributions are lost. Under the amended language of SB 214, post-docs would get an employer match for a different retirement fund. The language around post-doc work has also been clarified to remove the employer's incentive to outsource bargaining unit work to post-docs. The bill has moved out of the Ways and Means Committee and will now move on for a vote in both the House and Senate. We will continue to support this bill through passage.
Union Rights for Supervisory Faculty (HB 3170): HB 3170 would amend the Public Employee Collective Bargaining Act (PECBA) to allow faculty who take on roles like chair, head, program director, or primary investigator, the right to protections under collective bargaining agreements, even though a small part of their duties are currently considered supervisory under PECBA. A compromise amendment requested by the Universities clarifies that supervisory faculty should be in a separate bargaining unit from those they supervise and that the language would apply only to newly formed bargaining units. HB 3170 passed the House and was referred to the Senate Education Committee. While 3170 passed the Senate Education Committee, a minority report was issued. This issuance led the Senate leadership to refer the bill to the Senate Rules Committee instead of sending it to the floor for a vote. We were successful in getting the bill dislodged from the Senate Rules Committee and it had a work session on June 14th  to once again send it to the floor for a vote.
Security Agreements for Private Sector Unions (SB 1040): AAUP-Oregon supported SB 1040, which corrects a bad court decision that threatened union security agreements for private sector unions. The bill passed with broad support from both private and public sector labor unions.
Cost Containment (SB 1067 & SB 1068): Two new bills have been recently introduced to address cost containment. SB 1067 was introduced by Democratic leadership. It addresses some aspects of cost containment, including: (1) a merger of OEBB and PEBB; (2) mandating that OEBB and PEBB premium increases remain below 3.4% annually; (3) tying provider reimbursement rates under OEBB and PEBB to a percentage of the Medicare reimbursement rate; (4) increasing the state's debt collection efforts; (5) providing greater review and oversight for the filling of vacancies and changing employee compensation. While we agree with some aspects of this bill, others are either too restrictive or will likely prove ineffectual. In particular, we worry that putting a cap on premium increases in statute is unwise given the current uncertainty around federal health care changes. We have not seen evidence that an OEBB-PEBB merger will save money, but we worry about the impact combining two very different systems will have on employee benefits. We will continue to watch SB 1067 and provide input as it is discussed and amended.
SB 1068 was introduced in the Senate as a possible cost containment measure, provided the Legislature passes significant revenue-generating legislation.  The bill would have public employees contribute 1% of their salary to a risk-sharing account in July 2018, with the contribution growing to 2% in July  2019. Afterward, the rate would be set based on the cost and funding status of the system, not to exceed 4%.  The employer and employees contributions in the risk sharing account would be used to pay the costs of pension or other retirement benefits earned after July 1, 2018.  We will continue to keep careful watch on and engage on these cost containment bills.