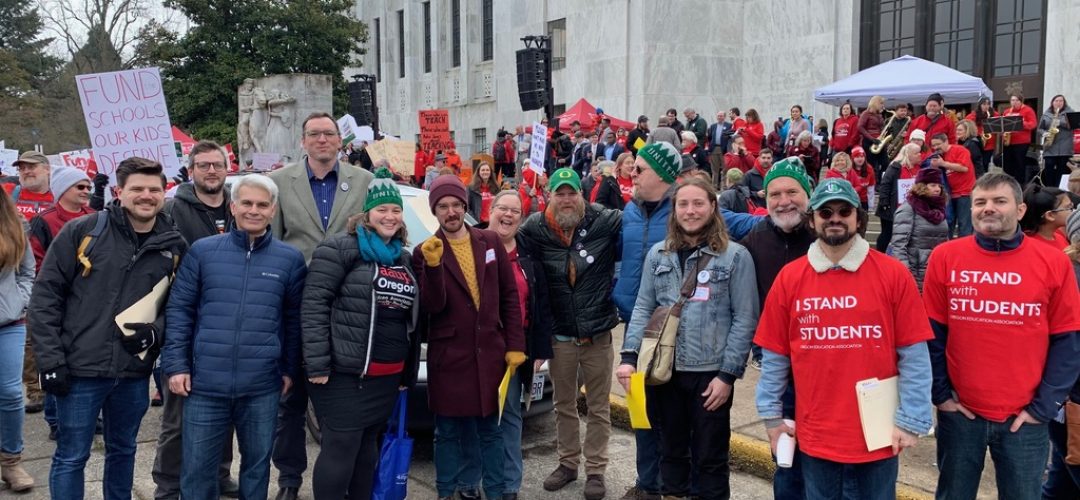 We are half way through a jam-packed legislative session! The AAUP-Oregon Legislative Committee has been busy reviewing proposed legislation and drafting and delivering testimony in support of our priority bills. You can access a full list of legislative positions adopted by AAUP-Oregon here. You can read testimony submitted by AAUP-Oregon here.The following provides a brief update on the status of AAUP-Oregon's priority legislation.
Senate Bill 852
Working alongside our Higher Education Coalition partners, AAUP-Oregon is championing SB 852 to provide subsidized insurance to faculty who, when they pool their hours across Oregon's public universities and community colleges, work more than halftime. The legislation would subsidize access to Oregon Educators Benefit Board (OEBB) insurance at 90% for the faculty member and 50% for the faculty member's family. SB 852 had a public hearing on March 11, where AAUP-Oregon President Michael Dreiling offered testimony in support of its passage. Numerous faculty members from across the state submitted written testimony attesting to the need for affordable health insurance for part-time and adjunct faculty. SB 852 passed out of the Senate Education Committee and on to the Ways and Means Committee on April 8.
House Bill 3280
House Bill 3280 seeks to provide a full voice to Higher Education Coordinating Commission (HECC) members who represent Oregon's faculty, staff, and students. HB 3280 would re-designate the five faculty, staff, and student HECC positions as voting and add an additional graduate student voting position. Following a public hearing and work session on April 3, HB 3280 will move to the floor of the House shortly. AAUP-Oregon submitted written testimony to complement in person testimony by past HECC commissioners.
House Bill 2016
The Oregon Public Workers Protection Act (HB 2016) moved quickly through committee and passage on the House floor. It will head to the Senate next. HB 2016 codifies best practices for labor relations, including access to workers in the workplace, participation in new employee orientations, guarantees of accurate and timely lists of represented employees, and paid release time for union representatives. AAUP-Oregon signed on to the coalition's letter of support for this important legislation. HB 2016 passed out of the House on March 27th and is now in the Senate Workforce Committee.
House Bill 5024
Both Ramin Farahmandpur (PSU-AAUP) and Avinnash Tiwari (UAUO) offered public testimony on HB 5024 which sets the funding level for Oregon's Public University Support Fund. Their testimony highlighted the need to increase the level of support for our public universities. The currently proposed funding level would severely underfund our universities, resulting in further tuition increases and detrimental effects for students, faculty, and staff.
Since the hearing on HB 5024, the Joint Committee on Student Success released a plan to raise two billion dollars in new revenue to better fund Oregon's K-12 schools. We are hopeful that increased funding for the Oregon Opportunity Grant will be included in this funding package. We applaud legislators for their move to invest in students, and we will continue to advocate for an investment in higher education.
House Bill 3075
House Bill 3075 seeks to correct legislation passed in the 2017 legislative session which removed the option of coordinated health insurance coverage for public employees partnered with another public employee. While the legislation promised significant savings, these have not been realized. Instead, vulnerable families facing serious medical costs have born a greater burden with no appreciable benefit to the State. For the March 19 public hearing, AAUP-Oregon offered written testimony in support of HB 3075 to reinstate coordinated coverage and opt out incentives.
In addition to these bills, we are tracking dozens of other bills, including many bad PERS bills which we closely monitor. We submitted testimony in support of tuition equity legislation (SB 859, SB 958, and HB 3204) and paid family leave (HB 3031). We have played a role in amending other bills we've been tracking in order to improve them or ameliorate potential concerns. More than 2800 bills have been introduced so far this session, and the legislative committee will continue to work diligently on our priority bills and other bills of interest.