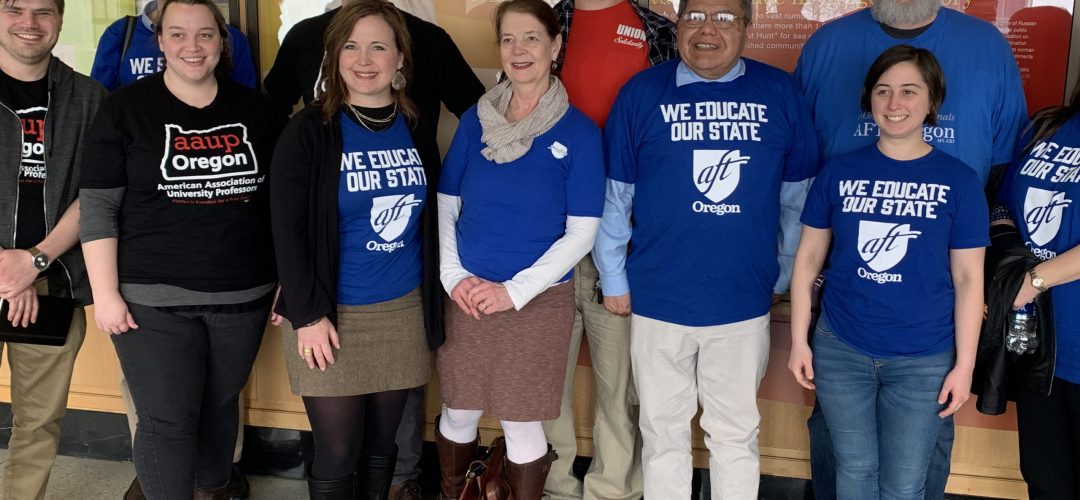 AAUP Oregon Members,
This week marks my last as AAUP Oregon Executive Director. It has been a true honor to watch AAUP Oregon members accomplish so much in the past three and a half years. Faculty at Oregon State University and Oregon Tech successfully organized their unions, growing our state conference from three collective bargaining chapters to five. Graduate employees at Portland State University and faculty at Oregon State University bargained strong first contracts while Portland State University AAUP celebrated 40 years of being union strong! Faculty at the University of Oregon continued to strengthen their union and fight to secure more stability and recognition for career faculty. Members in our advocacy chapters continue to stand up for each other and against austerity within their universities.
Our legislative work contributed to successful efforts to expand collective bargaining rights for faculty who serve as principal investigators and department chairs, create greater rights and protections for public employee unions, and establish more consistent funding for K-12 education. We have also built considerable momentum for our top legislative priority: subsidized health insurance for part-time faculty who work at multiple institutions. This momentum is evidenced by the Governor's inclusion of funding for the initiative in her recommended budget. Along with our Higher Education Coalition partners, AAUP Oregon will further work to secure greater pay parity for part-time faculty and stem the tide of adjunctification by limiting the use of part-time positions at Oregon's community colleges and public universities. The AAUP Oregon Legislative Committee is currently reviewing dozens of bills introduced this legislative session, so look for more on the session in the coming days and weeks!
Finally, I want to send strength and solidarity to Oregon Tech faculty who are fighting to secure their first contract. I look forward to hearing the good news that you have secured an agreement and that faculty at all seven of Oregon's public universities are finally covered by strong union contracts.
In solidarity,
Ashley Bromley